Ebay Suspension Reinstatement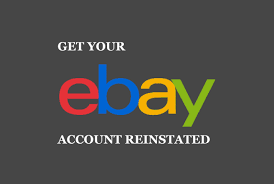 As an eBay reinstatement service agency, we are dedicated to helping sellers regain their privileges and get back on track with their online businesses. With our deep understanding of eBay policies and procedures, coupled with our expertise in resolving account suspensions, we provide comprehensive solutions tailored to each seller's unique situation.
At our eBay reinstatement service agency, we recognize the frustration and challenges that arise when an eBay account gets suspended. It can disrupt operations, cause financial losses, and damage the reputation that sellers have worked so hard to build. Our primary goal is to assist sellers in reinstating their accounts promptly, efficiently, and with a high success rate.
One of the key factors that set us apart as a reinstatement service agency is our in-depth knowledge of eBay's policies and guidelines. We stay up to date with the latest changes and updates, ensuring that our strategies align with eBay's expectations. By meticulously analyzing the reasons for suspension and evaluating the seller's account history, we devise a comprehensive plan that addresses any compliance issues while mitigating the risks of future suspensions.
Our team of seasoned professionals is well-versed in navigating eBay's complex appeals process. We understand that crafting a persuasive appeal is crucial for successful reinstatement. With years of experience in handling suspension cases, we know how to highlight the seller's commitment to compliance, showcase their positive selling history, and present a detailed action plan to prevent future policy violations. Our appeal letters are carefully written, taking into account the unique circumstances of each seller, ensuring the highest chances of reinstatement.
Furthermore, we provide ongoing support throughout the entire reinstatement process. Our team works closely with sellers, offering guidance and advice on implementing recommended changes to their business practices. We understand that proactive measures can significantly reduce the likelihood of future suspensions. By conducting comprehensive account audits and offering tailored strategies for improvement, we empower sellers to maintain a compliant and thriving eBay presence.
Confidentiality and trust are of utmost importance to us. We handle each case with the highest level of professionalism and integrity, ensuring that all client information remains strictly confidential. Our agency operates in full compliance with data protection regulations, and our team members are bound by confidentiality agreements to safeguard client interests.
As an eBay reinstatement service agency, we are committed to providing transparent and affordable solutions. We offer clear pricing structures and strive to deliver value that exceeds our clients' expectations. Our success is measured by the number of sellers we help reinstate and the long-lasting relationships we build with our satisfied clients.
In conclusion, as an eBay reinstatement service agency, we are here to support sellers in navigating the complex process of account reinstatement. With our extensive knowledge of eBay's policies, meticulous appeal strategies, ongoing support, and commitment to client confidentiality, we aim to help sellers regain their selling privileges, rebuild their businesses, and thrive on the eBay platform once again.